RIMPA SUITE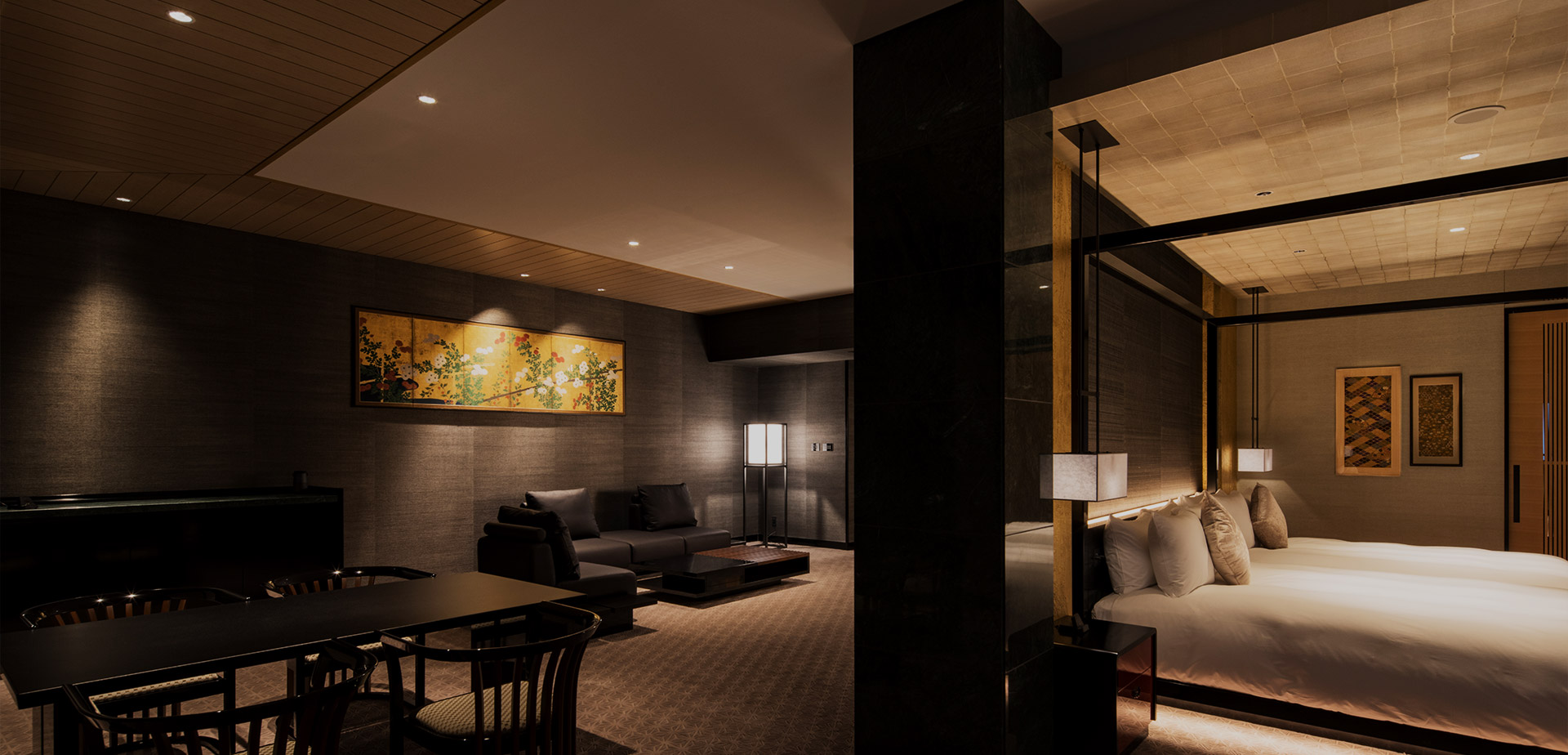 A suite with a
brilliant color scheme
and the gorgeous
beauty of Rimpa
- RIMPA SUITE -
Rimpa suite is a magnificent corner location accommodation of 130 sq m (1399 sq ft) on the 8th floor. Styled throughout in traditional Japanese art style of "Rimpa", the suite has the bold outlines and striking color schemes of gold and deep red in the living/dining room. Other features include luxurious queen-sized twin beds with a wooden canopy and a view bath Onsen.
Room Size :130sq.m / 1,399sq.ft
Bed Size :W160 x L210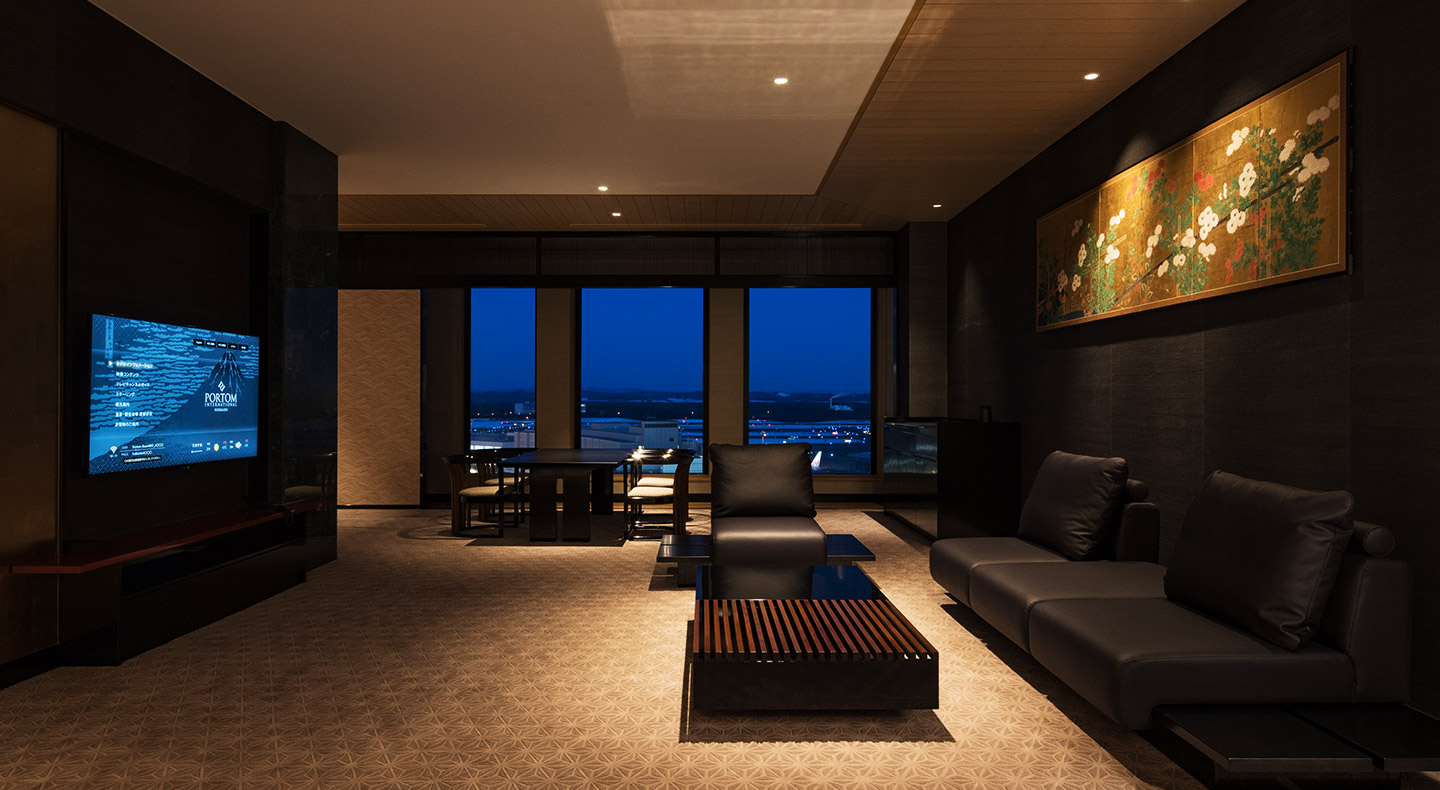 Art
Rimpa Suite,
a Space to Enjoy Works of the R impa School
The Japanese Art of Ornament and Illusion
Rimpa flourished in the late Momoyama period (late 16c) and continued into modern times. Influenced by the Yamato-e tradition and further characterised by the richness of ornamentation, Rimpa works encompass paintings as well as craft items and calligraphy. Our Rimpa Suite is furnished with pieces representative of the internationally acclaimed Rimpa aesthetics.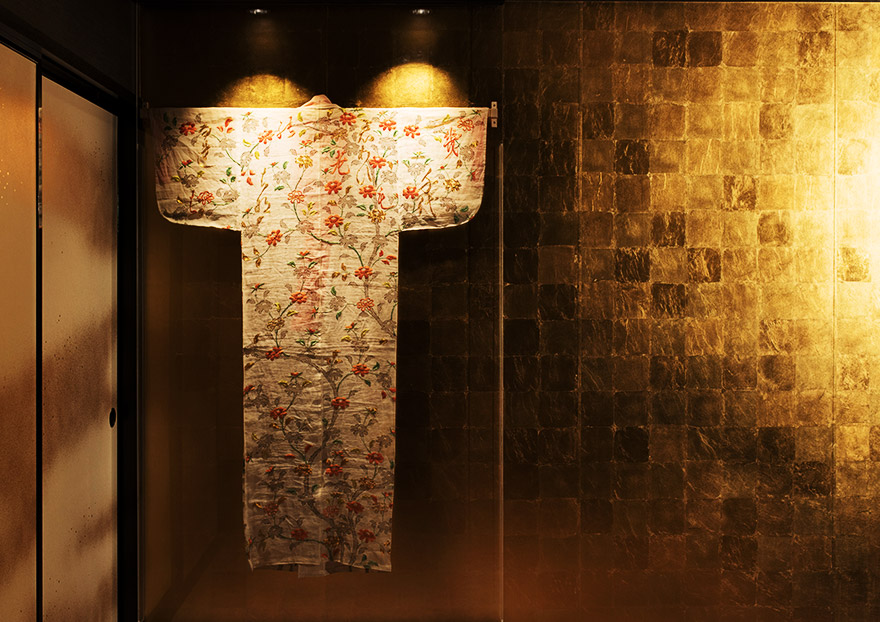 INFORMATION
AMENITY
Ferragamo bath amenities
(shampoo, rinse, body soap, body lotion, soap)

Original bath amenities
(shampoo, rinse, body soap, body lotion, soap)
Toothbrush sets
Mouthwash
Razor
Hairbrush
Comb
Cotton swab and cotton
Body wash towel
Hand towel
Face towel
Bath towel
Bath mat
Bathrobes
Slippers
Room wear
Night wear
Mineral water
Japanese tea and black tea
Coffee
Mini-bar
Deodorant spray
Shoe polishes
Sewing kit
Handbag for Onsen
Paper bag
ROOM FACILITIES
In-room Tablet device
View bath with Onsen
Air conditioning
Electric roll-up blinds
Nespresso machine
BOSE bluetooth speaker
60-inch TV
49-inch TV
(bedroom)
Repronizer 4D Plus
(Hair dryer)
Iron and ironing board
Air Purifier and HumidifierRefrigerator
Refrigerator
Electric kettle
Charging cable
Wi-Fi
Slumberland bed of luxury Kingdom Pillowtop Mattress
w160 * 210 (Queen-size bed)
Washlet toilet
In-room safe
Walk-in closet