SHIMOGAMO
-SARYO KITANOHANARE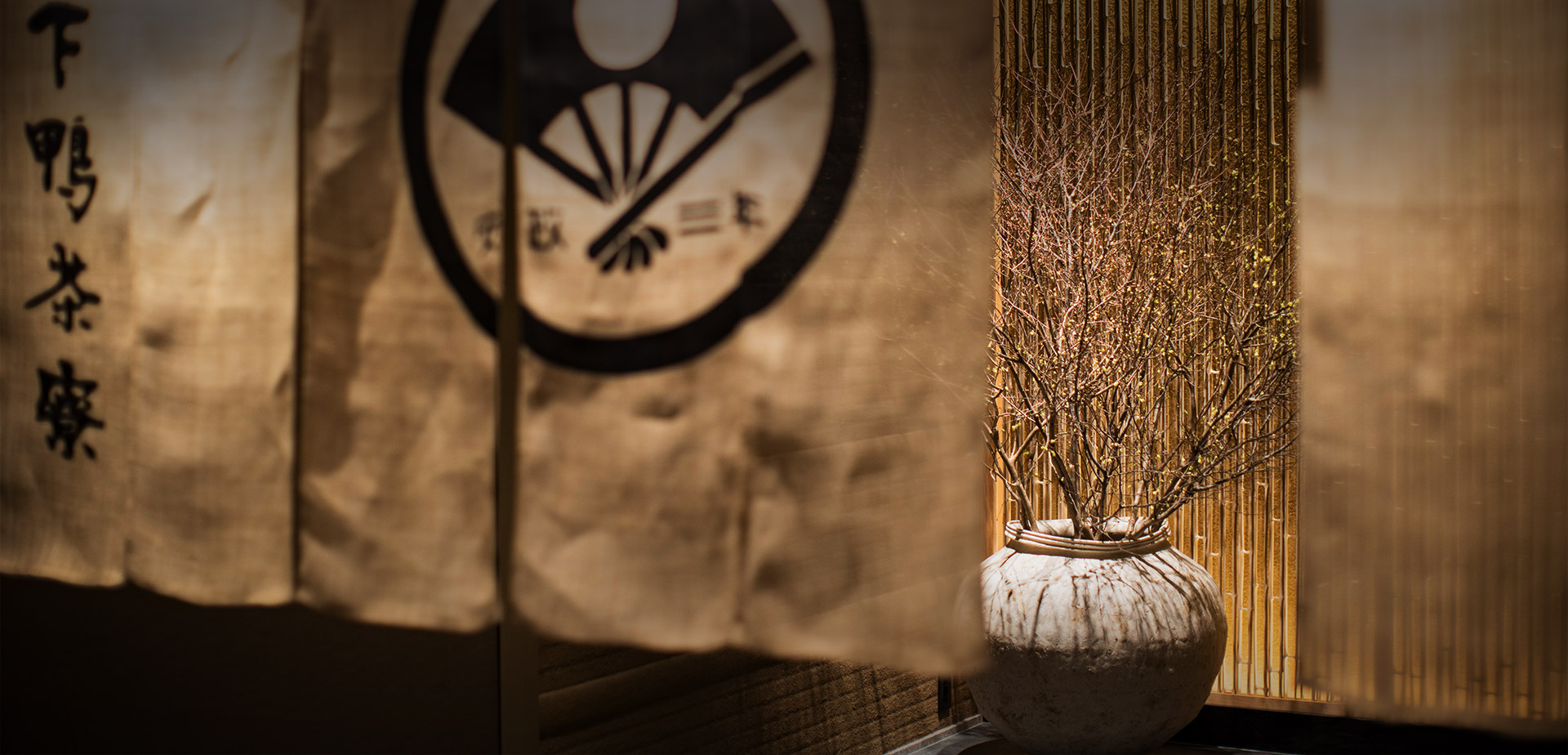 SHIMOGAMO-SARYO KITANOHANARE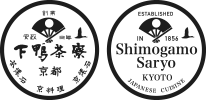 Traditional Yet Innovative
Japanese Dining- SHIMOGAMO-SARYO KITANOHANARE-
Taste our traditional yet innovative Kyoto style dishes, which are prepared with the inspiration drawn from the changes of the four seasons.
"One time, one encounter" is a cherished belief derived from the spirit of traditional Japanese tea ceremony to make your experience here memorable and unique.
Please enjoy your first encounter of Kyoto style cuisine meets Hokkaido ingredients.
Lunch: 12:30 - 14:00
(LO 13:30)
Dinner: 18:00 - 20:00
(LO 19:00)
Counter seats: 6 seats
Table seats: 76 seats
Private rooms: 4 rooms
Dress code: Smart casual
SHIMOGAMO-SARYO KITANOHANARE
RESERVATION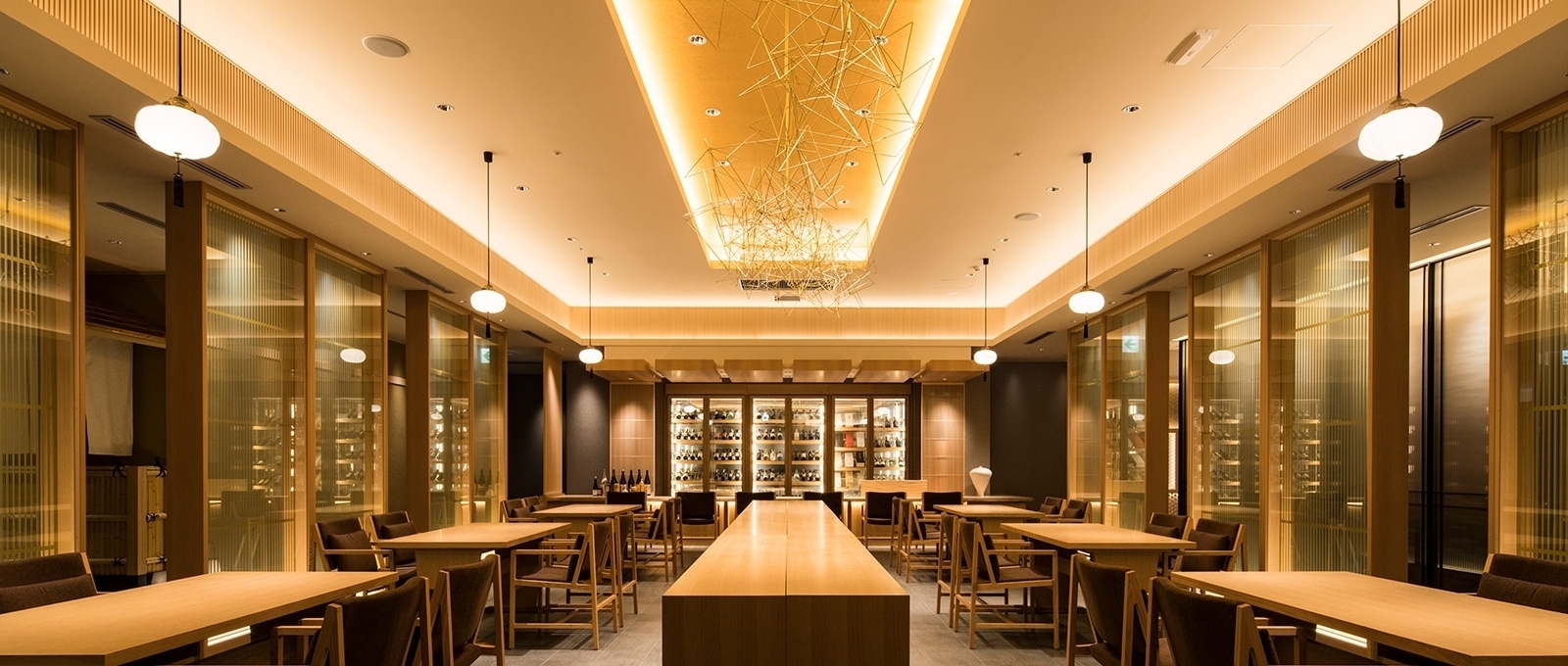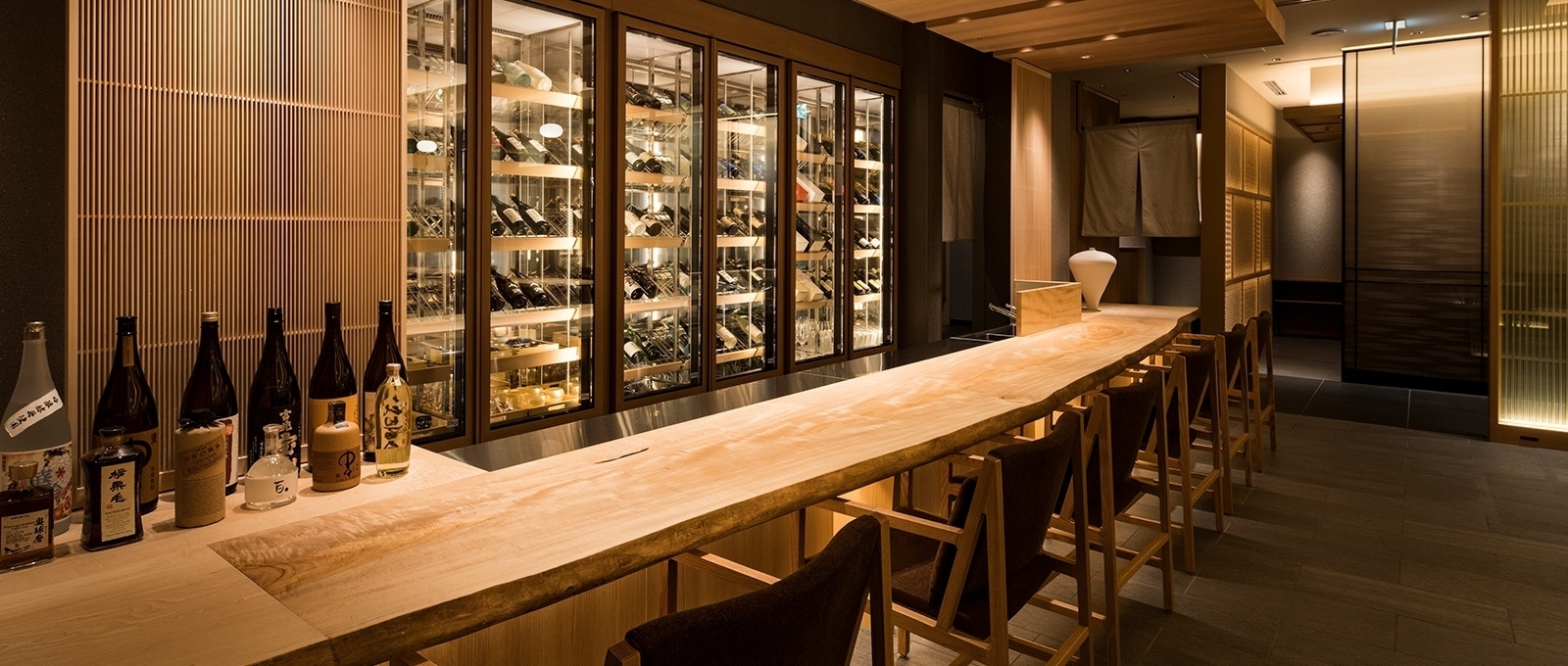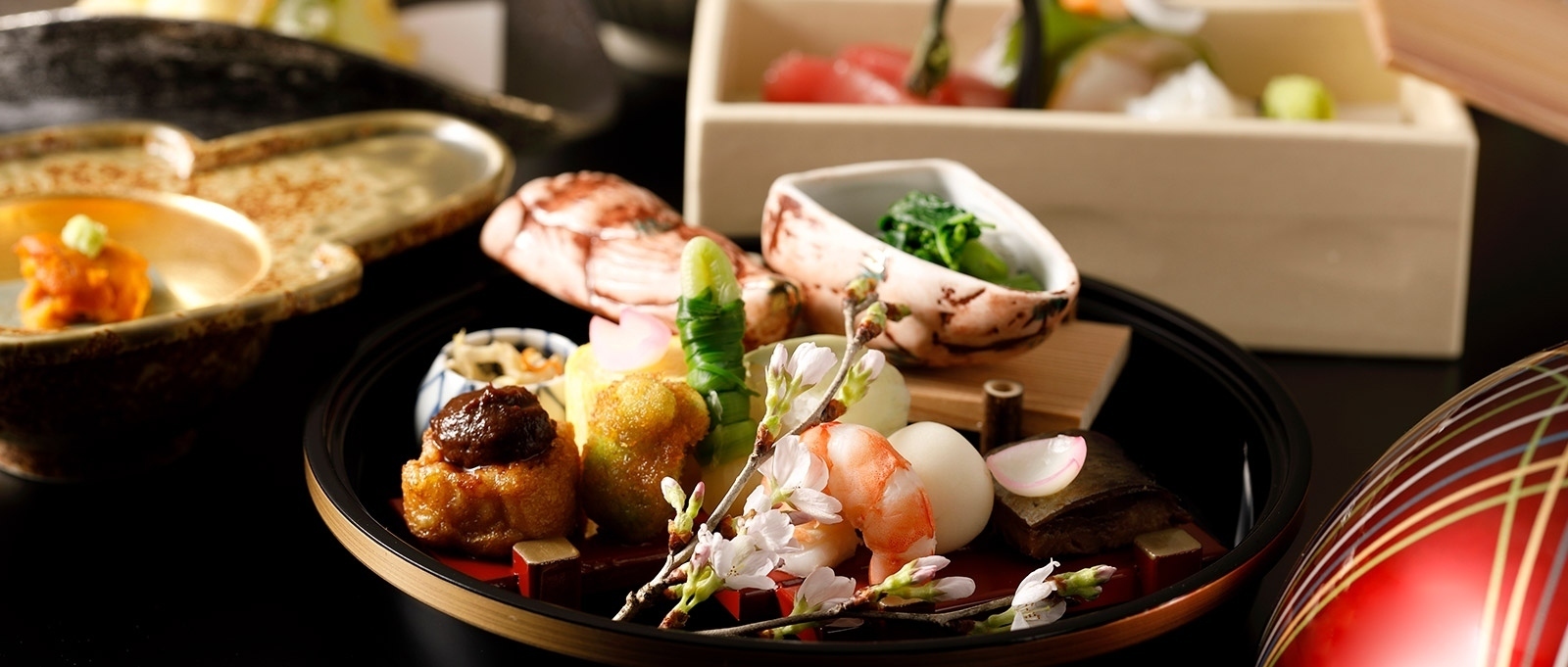 Dinner menu
※The photo is a sample image.
GION 18,150YEN
《Appetizer》 Sweet Shrimp with soy sauce and melted rice,
Rape blossoms and herring roe dressed with dashi broth jerry,
Monkfish liver, Camellia-shaped Sushi and Fried arrowhead chips,
Ema-shaped steamed sweet potato, steamed burdock,
Fried black soybean
《Japanese Soup》 Golden eye snapper with radish rice cake,
young greens, Steamed radish and carrot
《Sashimi》 Sea bream with some caviar, Yellowtail, Tuna, Squid
《Grilled》 Grilled winter Spanish mackerel marinated in miso
paste served with Japanese radish and "Kikuna" leaves grounded soup
《Side Dish》 Savory steamed egg custard assorted with dried scallop
and lily bulb
《Simmered》 Cod roe hotpot assorted with abalone mashrooms
《Rice Dish》 Cooked rice served with dried young sardines cooked
with soft-shell turtle broth, Red miso soup and Japanese assorted pickles
《Dessert》 Rum raisin ice cream filled wafers, pureed tofu and
strawberry soup and Apple Bavarian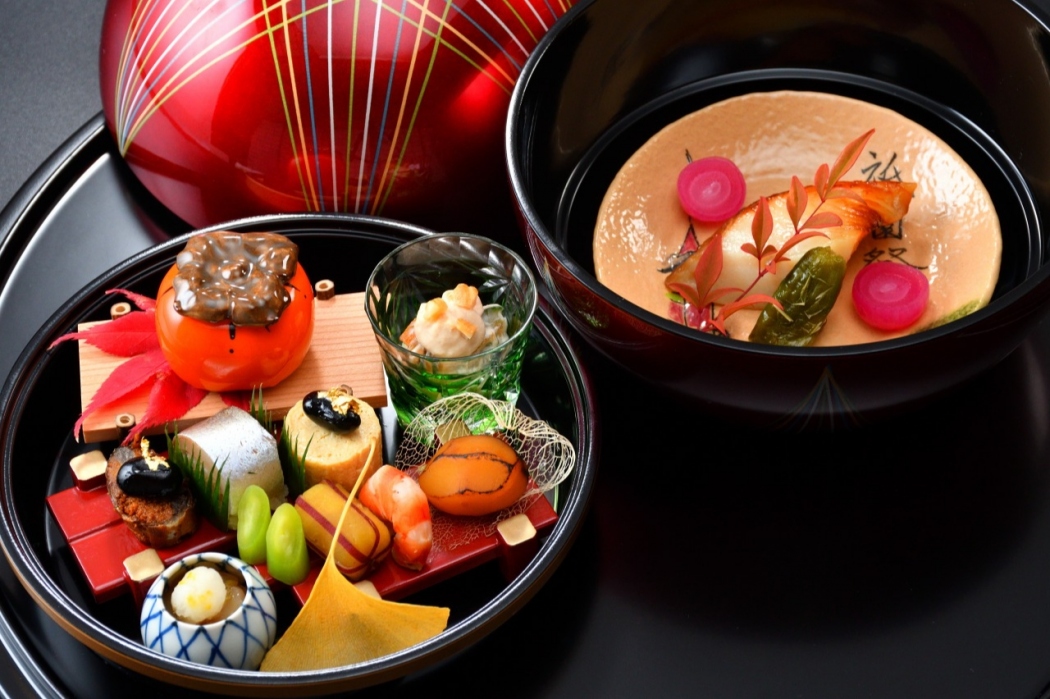 TEMARI  7,260YEN
《Small Appetizer》 Savory steamed egg custard assorted with soft
cod roe and Jerusalem artichoke
《Appetizer》 Salmon roe dressed with egg yolk,
Shimeji mushrooms and spinach dressed with sesame vinegar,
Rolled omelet, Yellowtail sushi, herring wrapped in boiled
kelp, boiled shrimp, Winter cabbage Sushi,
Deep fried Japanese icefish wrapped with seaweed,
Thin-sliced persimmon rolls.
"CHISYATOU" Lettuce marinated with miso paste
《Grilled》  Saikyo miso- grilled Japanese sablefish
《Japanese Soup》 Baked pie assorted with steamed crab dumpling
《Raw Fish》 Mahata-fish, Mackerel, Tuna
《Shimmered》 Shimmered idiot fish served with shrimp-shaped potato
《Rice Dish》 Cooked rice served with dried young sardines with
Sansyo pepper.
Red Miso soup, and Japanese assorted pickles.
《Dessert》 Rum raisin ice cream, Strawberry red bean rice cake dressed
with white wine jerry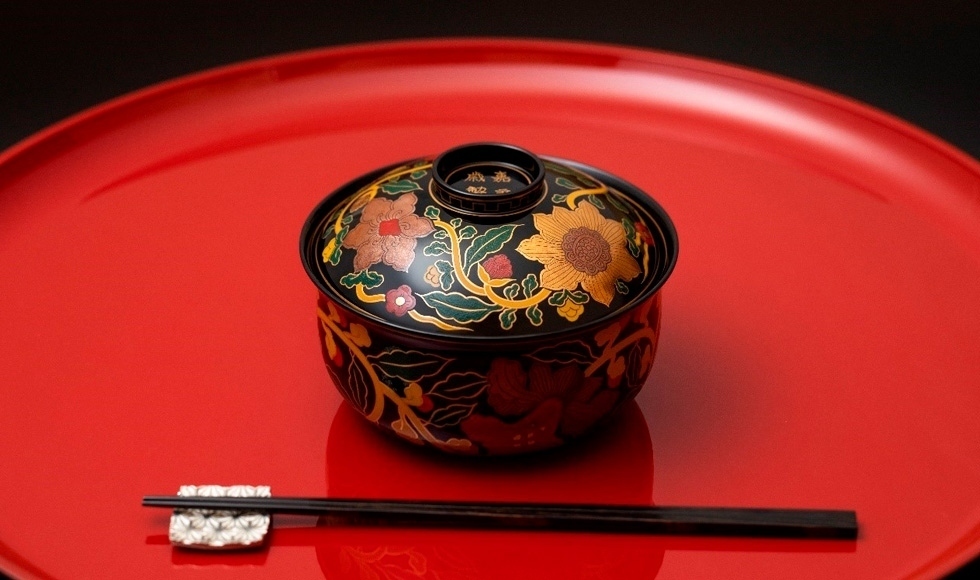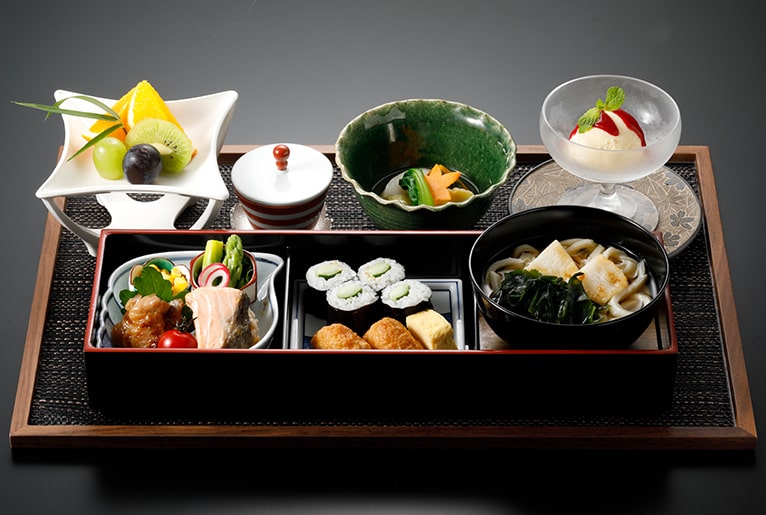 KID's menu
We have a Chef's special One Plate Menu for infants or a smaller potion Kaiseki course similar to adult's for children.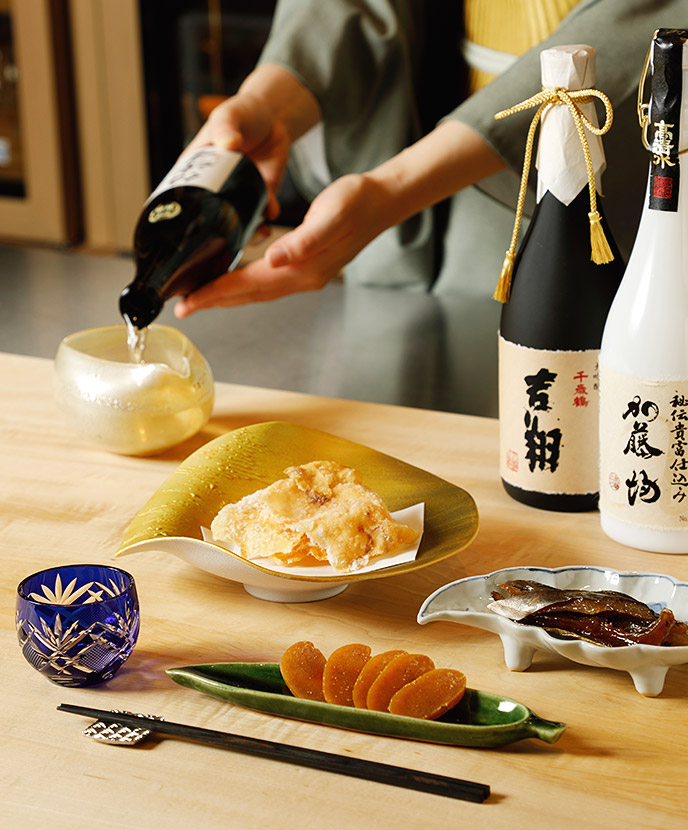 We are proud of our Sake selection from all over Japan. You can choose your favorite drinking glass. We have a private Hori-gotatsu room and a large table room that accommodate a group of people.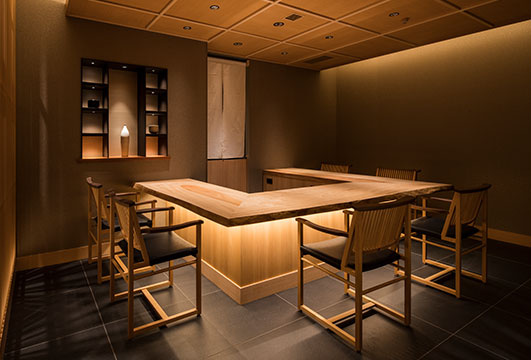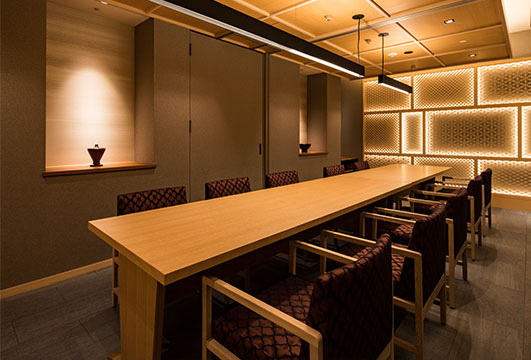 Art
Art
Japanese Dining Among Works by
Contemporary Calligraphers, Potters,
Lacquerers and Glass Artists
In the Japanese restaurant you can enjoy classic and innovative dishes realised from Hokkaido's own produce and culinary traditions. You will be welcomed by the work of five contemporary artists chosen to suit the dining concept.

Uchida Koichi
Arinaga Kota
Kuroda Taizo
Akagi Akito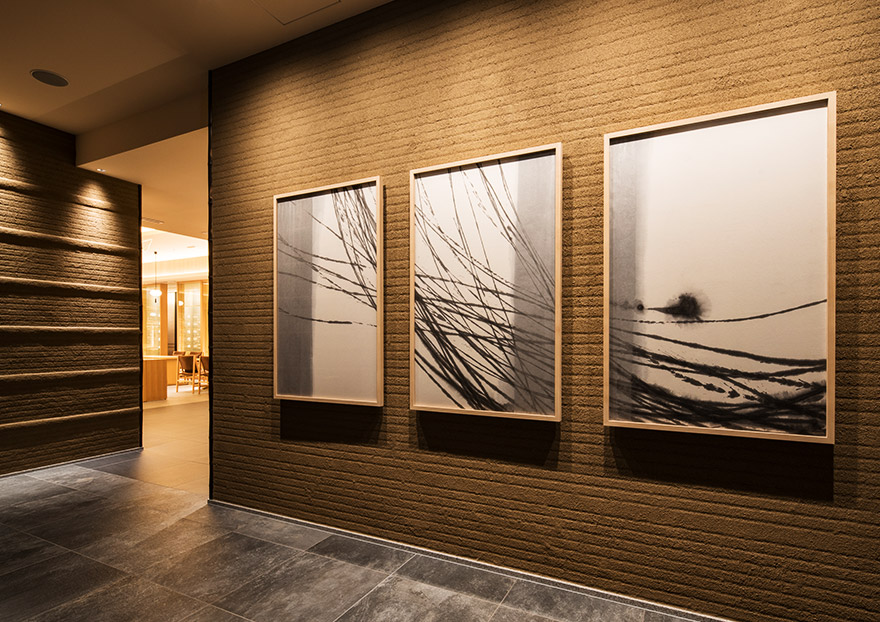 Kawao Tomoko
SHIMOGAMO-SARYO KITANOHANARE
RESERVATION