information

Autumn Afternoon tea from Café SKY LIBRARY
2021.08.17Cafe
Autumn Afternoon tea from Café SKY LIBRARY
* The photo is an example of serving for 2 people.
[New Menu from Café SKY LIBRARY]
- "Autumn Afternoon tea" - starting from September 1st until November 30th

Afternoon tea, which has been well received by everyone, will be replaced with a new menu from September.
You can enjoy our popular Mont Blanc with 4 kinds of flavors that bring out the goodness of [Western chestnut, Japanese chestnut, purple potato, pumpkin] ingredients.
Why don't you feel the taste of autumn with a combination salad using mushrooms and root vegetables, fig scones, etc.


*3,993 yen (tax included) per person
*Limited to 3 groups per day.
*Including free choice drink menu such as 6 kinds of English tea and 4 kinds of Coffee.
*Reservation required 3 days in advance ... TEL: 0123-45-6012
*Afternoon tea is only available from 13:00 to 15:00.


Autumn Special beverages ~COLD Drinks~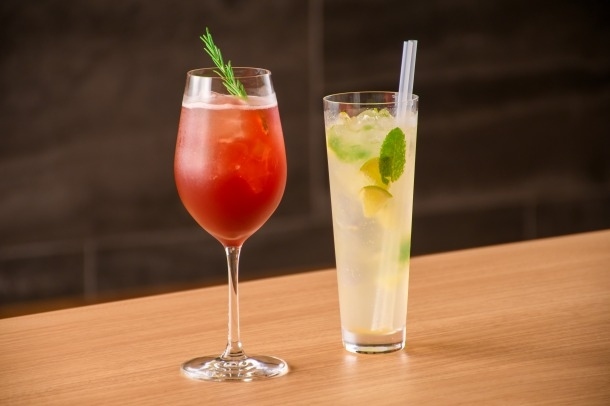 Yoichi Grape Tea Soda (left one on the photo)
We used fine grapes from Yoichi to make a refreshing iced tea.
The sweetness and subtle acidity of the ripe grapes increase, and carbonic acid and rosemary add freshness.


Yuzu Mojito (right one on the photo)
A non-alcoholic mojito with sweet and sour yuzu soda and mint.
We imagined the end of a refreshing summer and the beginning of a cool autumn.

Above menus are 847yen each (tax and service charge included) available from September 1st until September 30th.
Autumn Special Beverages ~HOT drinks~
Hot Yuzu Apple (left one on the photo)
Using grated apples, you can feel the sweetness of yuzu and honey.
For those who want to enjoy the aroma, we also recommend applying cinnamon sticks.

Original Cinnamon Chai (right one on the photo)
Our original chai blended with cinnamon, nutmeg, and ginger.
When you add condensed milk, the spices will be highlighted, and you can feel the rich sweetness.


Above menus are 847yen each (tax and service charge included) available from October 1st until November 30th.

Café SKY LIBRARY
Business hours 11: 00-18: 00 (L.O.17: 30)
* Cafe is relocated to THE BAR on the 8th floor.
* Due to the government request, we do not provide alcohol throughout our business hours.